Darn the Nether. Darn it to heck.
Yup. I died again. Yeah. Yeah. It was … it was lava.
And … yeah … all my stuff got burned up. My Dark Iron armor, my Ender sword, my Dark Iron pickaxe (all upgraded to a ridiculous degree), my newly crafted Adamantine shovel, my diamond grappling hook, my electromagnet, my rainbow jet pack, my six Forestry backpacks, my Ender bag (essentially just like the largest alchemical bag from Equivalent Exchange) with a million other tools and machines, and stacks of food and torches.
All I had left was the bow I had enchanted with Soulbound. It's a cool bow, with Power III, Infinity, Mending, and XP Boost, so I'm glad I kept that, at least.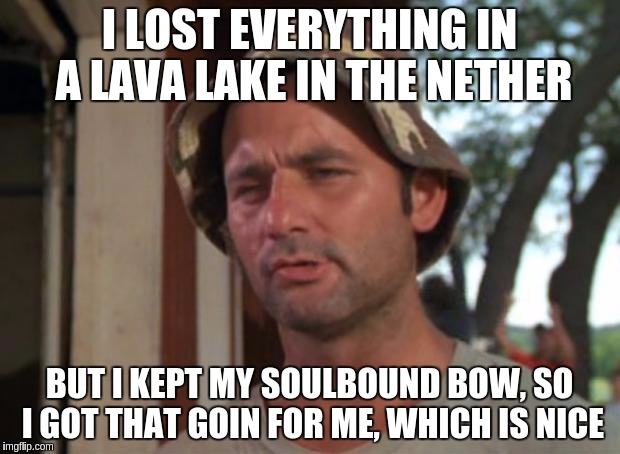 The problem with Dark Iron armor, I realized too late, was that it had very little flame protection. I could fall from y-level 255 and take no damage, I could withstand an onslaught of zombie pigmen, I could walk into a room of angry endermen and live to tell the tale, but if I caught fire … poof. So it was great for the Overworld and for the End, but not a perfect fit for the Nether.
Of course my epiphany did nothing for me as I tried desperately but in vain to swim to the shore of the vast lava lake I had fallen into other than twist my guts with the realization that all this tragic loss could have been avoided. My Minecraft-life was flashing before my pixelated eyes as my body and belongings turned to ash.
Fortunately, in Minecraft, you recover from death. Death is ever only a flesh wound. And it is a flesh wound that you can learn from … after you've gone through denial, anger, bargaining, and depression.
What I learned is that I need to branch out from Ender IO. I have a lot of other very cool mods in my current 1.10.2 modded game. Why am I not using Silent's Gems, or Base Metals, both of which add a lot of cool armor and tool options? So I decided to do both.
Cold-Iron Armor
Base Metals, along with its sister mods Nether Metals and End Metals, is kind of like Metallurgy (now in its fourth installment, I believe – very cool mod, that), but it has fewer metals. Some of those metals, however, have some cool properties. Take cold iron, for example, which is one of the two kinds of metals you only find in the Nether (the other being adamantine). Weapons made from cold iron are especially effective against Nether mobs, and a complete set cold iron armor makes you completely fire proof.
Completely. Fire. Proof.
This slideshow requires JavaScript.
It isn't as strong as the Dark Iron armor I had before in protecting you from falls or attacks, but it can be enchanted (I've already enchanted the whole set with Soulbound – never losing that stuff again).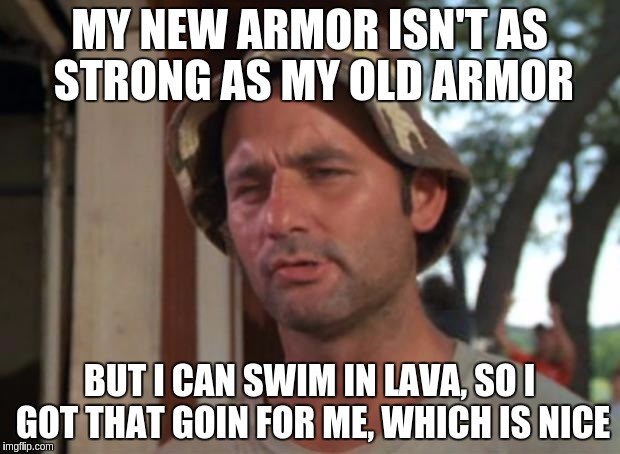 There are other fantasy metals, too. Mithril swords are strong against the undead. Adamantine armor is harder than diamonds. Star steel (which you get in the End) armor makes you jump higher and fall slower.
Weapons and Tools From Silent's Gems
Early in my current game I had messed around with Silent's Gems, but I had at some point gotten distracted by Ender IO and its Dark Iron weapons and tools. Part of the problem had been that I didn't yet fully understand the mod (it is recommended that you also install Guide-API as well to get the in-game documentation – I hadn't done this), while another part of the problem was that I hadn't yet accumulated enough items to be able to craft top tier implements.
I'm at a very different stage in the game, now, though. I have stacks and stacks of virtually everything at this point. So I decided to make a supercharged gem pickaxe and use Silent's Gems built in enchanting mechanic (enchanting tokens) to enchant it with Efficiency V, Fortune III, Mending, and Soulbound. It's kind of the ultimate pickaxe, now. Under normal circumstances it chews through stone like a chainsaw through runny banana pudding … but without all the mess. However, hit <<shift+C>> and it goes into "Tinker's-Construct-Sledgehammer" mode and starts mining a 3×3 area (called the "Area Miner ninja monkey super skill", without the "ninja" and "monkey"). So long, that is, as I have chaos energy to draw on.
No, I am not talking about a propensity to improvise. That is not something I do well, in game or out. My dad, on the other hand, is the improvisation king. He actively resists order. If he feels order creeping in, he'll find a way to interject improvisation into the situation just to keep things interesting.
Chaos is Silent's Gems magic energy. Throughout the world you will find these little white nodes (a lot like a simplified version of nodes from Thaumcraft). They fill up a meter that makes no sense to you if you haven't read the in-game documentation (which I hadn't, since I hadn't installed it). So after I figured out that these little white dots weren't trying to attack me, I stopped trying to attack them, too, and went about my game with an undercurrent of confusion in the back of my mind.
Turns out, this meter is your personal stash of chaos. It can also be stored in chaos orbs (essentially magic batteries that look like dough from Pam's Harvestcraft), but don't take one of these to a naturally occurring chaos node. It will take literally forever for it to fill up. Okay, maybe not literally. But what you need to build are a chaos pylon or two and a chaos altar. The pylon generates chaos like a node, and the altar stores it. You can also place a chaos orb into an altar to charge it over time.
In any case, this chaos stuff gives your supercharged gem tools the ability to act like Tinker's Construct top tier tools: dig a 3×3 area, mine a 3×3 area, and chop down a whole tree from a single block. Plus, certain weapons can have a magic attack, too. Overall, I think it's a pretty cool system.
If I have a criticism of Silent's Gems, it is that everything seems maybe a little too easy. Maybe. A little. But the mod is crazy fun to play and shows a lot of imagination. And I know that game balancing is a difficult and serious issue for mod developers. I suppose it is better to err on the side of too easy rather than too hard, at least if you want people to play your mod.
In any case, I have made sure that I will not lose everything again the way I did last night. I'll have to be creative and find a different way to lose everything.